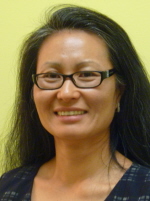 Amie Nasayao-Jiwa,
BSNH (Hons)

Natural Health / Macrobiotic Counselor,
Macrobiotic Cooking Instructor
Email: amie@albertahealthinstitute.ca
Many of our clients have come to us with serious illnesses such as cancer, high-blood pressure, diabetes, crones, colitis, chronic depression, anxiety, and more, and have successfully learned to use macrobiotics as an aid in the cure, improvement, and future prevention of illness. We help people find their way to vibrant health.
What to Expect
A private session with Macrobiotic coach, Amie Nasayao-Jiwa, will help you structure your diet and select foods to strengthen your health, increase your energy, and balance your condition. Before your appointment, you will be asked to fill out a questionnaire about your health history and any current concerns or symptoms. During the session, an assessment of your constitutional traits and current condition will be made through methods of macrobiotic diagnosis. The coaching session will also include a discussion on the macrobiotic view of the cause of your present condition followed by detailed, personalized dietary and lifestyle recommendations to specifically address your own unique needs and concerns.
After your Coaching:
· A recipe and recommendation booklet will be provided to so that everything addressed in the coaching session will be comprehensive and easy to reference.
· Your coaching session includes unlimited follow up emails with Amie for 6 months.
· Following your coaching session you will receive 10% off all cooking classes, lectures, and workshops offered at the Alberta Health Institute.
· If required, often when one is healing from illness, follow-up appointments will be provided at a lesser rate.
Amie offers a one to one private health consultation and cooking classes to show you how you can have more energy and live a longer, happier life. Contact her at Alberta Health Institute, www.albertahealthinstitute.ca
Disclaimer Information and statements made are not intended to replace the advice of your family physician.